If you're sitting at home crying your eyes out because 2020 was meant to be the year you start your travel blog (or any kind of blog) and you feel like this whole pandemic thing has totally ruined your life …. well don't.
It's time to put away the tissues and start thinking like a business person … yes, that's right you're a very important business person so get out of your PJ's put on your creative clothes because it's time to start making that dream of yours a reality!

Believe it or not, now is actually a brilliant time to start a blog. I get that countries are closed and traveling overseas is almost impossible so you're probably thinking what's the point in starting a travel blog if you can't even travel. Well, it's time to change that mindset, shift your thinking from being in the now to the future – you know the one where the world has re-opened and you can fly anywhere you want when you want!

Think about it, the first few months and even years of blogging are about building an audience, a following, a style, and the big one….. content. So if you start now by the time the world re-opens and you are ready to tackle your first overseas blog post then it's possible that you would have already established a bit of a fan club that will help propel you to international stardom! Now that may be an over-exaggeration but you know what I mean!
Ok, let's get started, but first memorise these five words, they will help keep you grounded and maybe even a little bit motivated when starting your blog – you're welcome!
Authentic
Simply put… be yourself. Followers follow you for two reasons:
1. Because your content is providing them value and/or
2. They relate to your unique style and personality
People know when they are being taken for a ride or if someone is spinning a whole heap of BS, and it's really hard to regain that trust. Live by the principle of that old saying "first impressions always last".

Confidence
If you believe in what you are doing, others will too. If you love what you have done don't second guess it, sometimes we can be our harshest critics. Remember everyone has an opinion whether it be good or bad, your post or pic has stirred up some sort of emotion, you have made your reader react – so well done you! Something else to remember not everyone has the same tastes or beliefs meaning not everyone is going love the same things you do!

Patience
You may be one of the lucky ones that reach international stardom overnight but the reality is that blogging is hard work. The majority of blogs take time to generate a loyal following so just be patient, if you put in the hard yards the rewards will come!
Perspective
I love this word, it helps bring you back down to earth. When you start your blog you will compare yourself to your favourite bloggers and think things like why do their blogs have 100,000 followers on Instagram and I only have 1… I'll never get there. Perspective my friends, you're new, it's going to take time and hard work to be the next industry leader but believe in yourself – you can do it!

Also, it's good to remember that everyone has a different way of feeling about or seeing things so don't be too hard on yourself if something doesn't seem perfect or end up the way you thought it would, chances are no one else will even know – perspective!

Fun
This is the most important word to remember. Be sure to have fun, don't take life too seriously, after all, if you enjoy what you do your readers will too!
Start a New Travel Blog – Set Up Check List

1 ✈ Choose your blog topic
2 ✈ Choose your blog/business name (check it's available on social media sites)
3 ✈ Secure your domain name eg. giddyguest.com & check if it's available
4 ✈ Set up your blog name on Facebook, Instagram, Pinterest, Twitter and any other social channels
5 ✈ Set up web hosting (your blog can be seen on the internet, popular hosts are Bluehost & VentraIP)
6 ✈ Select your content management system – I use WordPress.org
7 ✈ Choose your WordPress theme (WordPress offer free themes but mine's from 17th Avenue Designs)
8 ✈ Add in key plug-ins (customise your page with additional features eg. Yoast – SEO, Grammarly)
9 ✈ Write & post your first story – Yay!
With so many step by step guides out there on how to start a blog, I am not going to go into all of that again but I am going to share with you the things I wish I knew about on day one (which I didn't find out about until a few months down the track) and a quick set up guide which will help get you started.
What You Need to Know
Choosing Your Blog Name
Make your blog name catchy, relatable, timeless, easy to remember and relevant to what your blog is about. This can be such a brain buster, just as you think you have come up with the perfect name you google it and 1000's of businesses have the same or very similar name.

Don't give up, workshop different word combinations and boom one will magically appear. It is worth taking the time to get this right but if it's really dragging you down run with what you have, you can always rebrand down the track – believe it or not Google was originally called BackRub and Amazon was called Relentless!

When you do land your new name, google it so you can see what your followers will experience when they are searching for you.

Most importantly check out the social sites to make sure your new name is available for Instagram, Facebook, Twitter, Pinterest, and any others you think you may want to dabble in down the track! In other words, secure your name now for all social media sites, this way when you're ready to use them they are already there.
Start a New Travel Blog – Social Sites Set-Up Checklist

✈ Pinterest ✈ Instagram ✈ Facebook ✈ LinkedIn ✈ YouTube ✈ Twitter

Give Your Website a Polished Look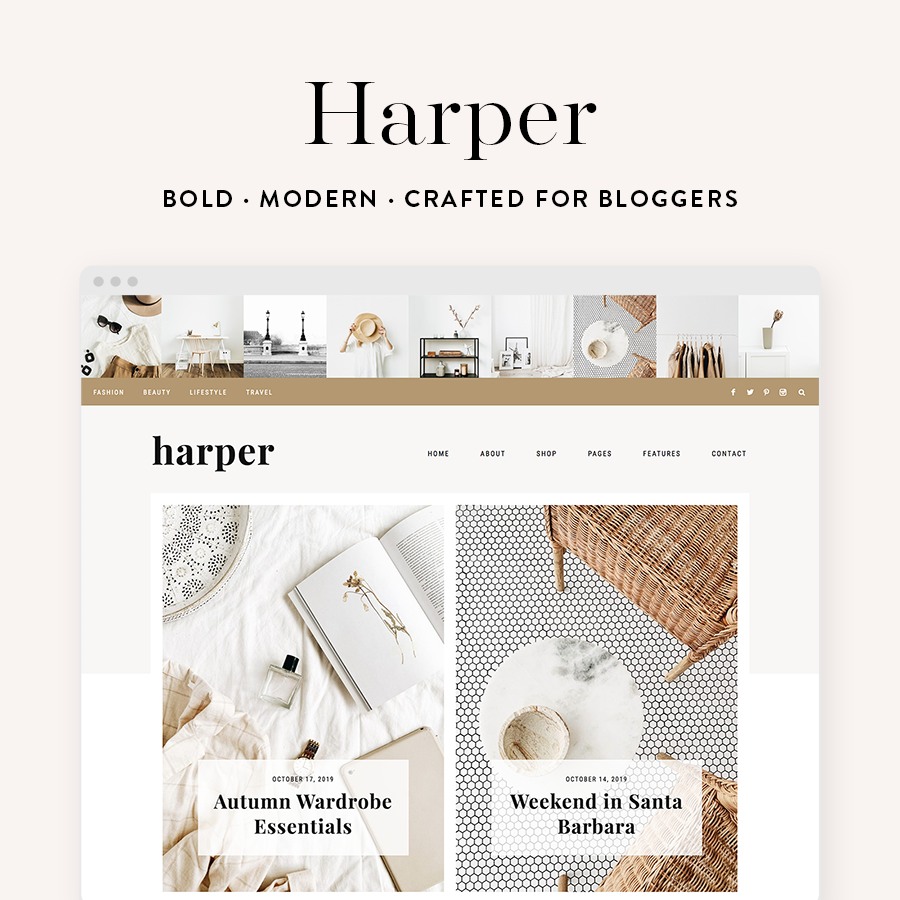 First impressions last, it's a known fact and an easy way to show your audience you're the real deal is to have a professional-looking website. You can buy some amazing themes that will help build your credibility instantly. My theme is from 17th Avenue Designs, they offer tutorials and easy to read theme setup guides. Plus, Kate is there to help if you have any questions. Check out 17th Avenue Designs
Get Social but Not Too Social
Starting a blog will consume a lot of your time. So, you need to make sure when your first starting out that you don't over-commit yourself and that you're targeting the social sites that will give you exposure to a wide audience. Maybe start with one or two so you're not juggling too much all at once, and then move into other mediums once you get in the swing of things.

Pinterest is always a great place to start. Not only will it help get you exposed to a wider audience but you can link your pin direct to your website. This allows the viewer to click through to your site and you gain traffic – which is exactly what you want!

When you set up Pinterest have a look at other travel bloggers pages to get some ideas on what board titles to use. If all else fails Google or YouTube 'Pinterest', there are so many guides out there to help. Try out Pinterest

Instagram is a great medium for travel bloggers to showcase their pics. It can be slow-growing. You will also need to be posting and creating stories very regularly to help grow your following. Try out Instagram
Plugins to Get You Started
Simply put a plugin allows you to add additional functionality and features to your website.
When you start a new travel blog, Yoast SEO and the Coming Soon Page are possibly the best plugins to get.

Yoast SEO will help you to see how well you have optimisted your post for SEO (search engine optimisation). SEO is what helps gain traffic to your website and where you rank on Google. Yoast SEO has a simple green, amber and red-light system that shows you how your post is positioned for SEO and readability. Check out Yoast SEO

Coming Soon Page allows you to show a coming soon message on the main page of your website. You can tailor your message to say something "Check back soon, we are working on something exciting!" Check out Coming Soon Page
Affiliates That Accept New Bloggers
Not all affiliates will accept new bloggers into their programs day one – upsetting I know!

Ok let's take a step back… an affiliate program is basically where a company pays you (the blogger) to promote their product and send customers to them. They may pay your per sale or per click.
Start small and concentrate on companies or products that you are familiar with, would buy yourself and are relevant to your niche. This way you can be confident that you are promoting quality products that will help build trust with your audience.
Google AdSense is good a good way to start monetising your site. You are paid per click and you can block ads which allows you to have some control over what ads are shown. Check out Google AdSense
Booking.com allows you to place adds on your site which can lead to you earning commissions based on bookings made. Check out Booking.com

17th Avenue Designs is another great affiliate option for monetising your site, especially if you use their website products like I do. You will need to apply for approval but the process is quick and easy. I used several products for just over 12 months before applying and wish I would have applied earlier. Check out 17th Avenue Designs
ShopStyle like 17th Avenue Designs ShopStyle may not accept your application straight away, but the reason I have added them here is that while your application is being reviewed you can add their widgets to your site without receiving a commission. Now if like me your initial application is rejected they still allow you to create content and show this on your site without earning anything until you are approved. You may wonder why you would do this but I actually kept promoting on my site as the widgets were easy to create and it complimented the look and feel of my site. Check out ShopStyle
Things New Bloggers Can't Do Without
Hootsuite
This is a social media scheduling tool. Hootsuite allows you to schedule your posts in advance along with transforming the size of your picture or adding a filter. Hootsuite will allow you to manage three social sites for free and if you want to add more you will need to upgrade to a paid plan. Try out Hootsuite

Canva
You need this, trust me. Canva will help you create amazing graphics for all of your social media posts – see one of mine below! I find Canva extremely helpful for Pinterest and Insta stories. You can use Canva for free or upgrade for a fee – I have only ever used the free version. Try out Canva
Google Analytics
Possibly one of the most valuable tools a new blogger can have, not only will Google Analytics allow you to see how much traffic you are receiving to your site but it will also show you what time of day people visit, what country your visitors are from and what posts they reading. All of this information helps you understand how your site is progressing. Try out Google Analytics

Adobe Lightroom
This will help make your pictures go from looking good to looking amazing. Not only can you crop, straighten or rotate your pics but you can lighten them, add extra colour, overlay a pre-set, or the bit I love create and save your own pre-sets! You can use Lightroom for free or upgrade for a fee if you want all of the bells and whistles. Try out Lightroom
Google Search Console
When you publish your article you want to make sure that it can be seen by your followers and Google Search Console allows you to check for any site errors or issue along with the indexing status of a post. You will also be able to get information on what keywords were used, this will help with you perfecting SEO as it will help you gain a better understanding of what people searched for to get to your site. Try out Google Search Console

Google and YouTube
When setting up a new blog Google and YouTube are going to become your best friend. Whenever you're unsure about how to do something, set something up, or simply don't understand the jargon then just google it, I guarantee the majority of new bloggers have been in the same situation and I'm even more certain that someone has written a post or made a video about it!
Collaborations
I hear you asking…so when can I work with hotels? This, I am sure is something all new bloggers are eager to do. My advice is to be patient.
Get your website up and running and fill your site with stories, pics and posts from your own travel experiences – you know the one before you were a serious travel journalist. This way you will have a professional looking portfolio to share with potential brand collaborators.
" Being a new blogger can actually work to your advantage "
Being a new blogger can actually work to your advantage. It allows you to contact a business and tell them that you're a new blogger who has already booked to stay at their property (yes, I mean pay for it yourself) and you would love to catch up with them to hear more about their hotel so you can promote your stay via social media and on your blog – free advertising… how could they say no!
The most important part is that you follow through with your promise, contact the marketing or media area of the business and send them a follow up to thank them for their time and share a link to your post. This will help you start forming relationships and getting familiar with the business side of blogging without feeling too much pressure – after all you're a paying guest!
Courses
There are billions of courses about blogging you can buy or participate in but you will find the majority of the information you are after on Google or YouTube for free. You can also join different groups on Facebook like Make Traffic Happen – SEO + Social Media Support or ProBlogger.
The Travel Bootcamp offers free blogging info on their social sites and travel courses at reasonable rates. I love hearing the latest tips from the Travel Bootcamp as it's run by three of the industries finest – Lauren Bath Australia's first professional Instagrammer, Georgia Rickard who is an Australian travel magazine editor and Liz Carlson the creator of Young Adventurous,
My Final Advice
Make sure you write your posts with your reader in mind, the reality is when your new people are really only looking for the information they are after.
Readers may not care that you ate 76 donuts from the Berry donut van and had to lie down after entering a food coma but they may care that "One donut just won't be enough after you try the delicious hot donuts from the world-famous Berry donut van! See what I'm saying… make your content helpful so much so that they just have to go and try it.

But the most important advice for any new blogger is to get out there, enjoy what you are doing and have FUN!
Trending Posts
Do I Really Need to Book Through a Travel Agent?
How Long Should You Stay in New York
How to Travel the World During 2020 – Hollywood Style
How to Travel the World During 2020 – Eat it!
Thoughts & opinions shared about Ready to Start a New Travel Blog are entirely my own.
Please note that some of the links above may be affiliate links, which means I may earn a commission (at no cost to you) if you make a purchase. I only recommend products and companies that I would personally use.